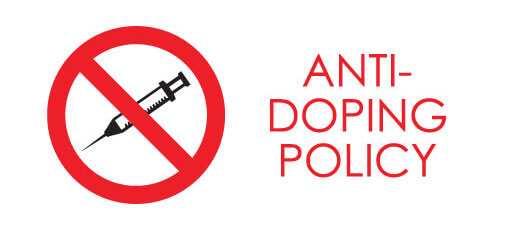 What is Doping?
Doping is the use of prohibited substances or prohibited methods to enhance an athlete's performance and concealing or attempting to conceal such use. There are a wide range of performance-enhancing substances and methods and, in line with scientific advancements, they are becoming increasingly diversified, sophisticated and ingenious. These substances and methods are prohibited under world anti-doping regulations.
Why is Doping Wrong?
The concepts of self-achievement, fair play and teamwork are an integral part of sport, and these values constitute a major part of the fascination and attraction of sport for many people. However, doping causes immeasurable damage to the values, integrity and attraction of sport. In addition, taking substances and utilising methods that have been originally developed for entirely different purposes can pose major health risks.
Finally, doping is an anti-social act that betrays the trust of the spectators and sponsors who have supported an athlete, and when that athlete is competing on behalf of his/her country, it betrays a nation's hopes. In recent times, institutional doping has become a major issue which has transcended the confines of the sporting world and has led to a massive loss of public trust in the integrity of sport.
What is Anti-Doping?
Anti-doping constitutes a range of activities aimed at eliminating doping in sport, as well as protecting clean athletes and the integrity and values of sport. To this end, it is the duty of all related personnel, not only the athletes, to concern themselves with and promote anti-doping activities.
On the 1st of January 2021, a new world anti-doping code came into effect. From this date Sport Ireland and those who have adopted Sport Ireland rules must comply with their responsibilities under the new code. This includes the IAWA and its members and affiliated clubs. The policy of the Irish Amateur Wrestling Association is that doping is contrary to the spirit of FAIR PLAY and all members have a responsibility to ensure that our sport is free of doping.
Education is key
---
All IAWA wrestlers, wrestler support personnel including coaches, medical personnel, nutritionists, and officials are encouraged complete Sport Ireland's Anti-Doping eLearning educational course online. This course is also a prerequisite to some IAWA training courses and competitions. The course is free and takes approximately 30 minutes.
At the very end, a certificate of completion will generate, which all athletes and coaches are encouraged to save this for their own records. You may be asked to produce this certificate as proof of completion.
The IAWA advises all members to read and understand the anti-doping rules and to understand your responsibilities under the rules.
Sport Irelands e-Learning Programme
Sport Irelands e-Learning Programme covers all key topics in anti-doping that athletes and athlete support personnel need to be aware of.
The following topics are covered;
Anti-doping rule violations
Testing procedures blood & urine
How to check medications
Therapeutic Use Exemptions
The risk of supplements and herbal remedies
Consequences of doping to knowing about Anti-doping.
Click HERE to be directed to Sport Irelands Anti-doping E-learning Programme
Download Sport Ireland 2020 Anti-Doping Wallet Card HERE
Remember Strict Liability applies:
---
What does this mean?
It means that each wrestler is strictly liable for the substances found in his or her bodily specimen and that an anti-doping rule violation occurs whenever a prohibited substance (or its metabolites or markers) are found in bodily specimens, whether or not the player intentionally or unintentionally used a prohibited substance or was negligent or otherwise at fault.
Irish Anti-Doping Rules
---
The Anti-Doping Rules of the Irish Amateur Wrestling Association are the Irish Anti-Doping Rules as set out in Rule 21 of our constitution: The Anti-Doping Rules of the IAWA are the same as the Irish Anti- Doping Rules as amended from time to time.
In 1999, the World Anti-Doping Agency (WADA) was established to promote international anti-doping activities in all sports, and later the World Anti-Doping Code was published as a set of universal regulations for the international sporting community. Anti-doping activities take place around the world under the regulations stipulated in the Code.
The World Anti-Doping Code defines the following ten anti-doping rule violations:
Presence of a Prohibited Substance or its Metabolites or Markers in an Athlete's Sampl
Use or attempted use by an athlete of a prohibited substance or a prohibited method
Evading, refusing or failing to submit to sample collection
Tampering or attempted tampering with any part of doping control
Failure to notify whereabouts for out-of-competition testing
Possession of any prohibited substance or a prohibited method
Trafficking or attempted trafficking in any prohibited substance or prohibited method
Administration or attempted administration to any athlete of any prohibited substance or prohibited method
Assisting, encouraging, aiding, abetting, conspiring, covering up or any other type of intentional complicity involving an anti-doping rule violation
Association in a professional or sport-related capacity with a person who has been involved in an anti-doping rule violation.
The following information regarding the new WADA 2021 Code is available at HERE
WADA has created interactive computer games such as the Play True Quiz and Play True Youth, and other tools such as card games. Books and videos exploring numerous subjects related to the fight against doping in sport are also available.
The 2021 Irish Anti-Doping Rules came into effect on January 1st 2021.
The Irish Sport Anti-Doping Disciplinary Panel Procedures which also came into effect on January 1st 2021.
Website Anti Doping Page updated 28/01/2020 The IAWA advises all members to read and understand YOUR responsibilities under the Anti-Doping Rules and download an app today to check your medications.
Summary of changes between the 2015 Irish Anti-Doping Rules and the 2021 Irish Anti-Doping Rules.
---
As the National Governing Body for wrestling and grappling sports in Ireland, the IAWA and all its members are signed up to Sport Irelands Anti- Doping Policies.
The IAWA's policy is that doping is contrary to the spirit of sport and every member has a duty to ensure that the sport is free of doping. The spirit of sport is the celebration of the human spirit, body and mind, and is characterised, amongst other values, by ethics, fair play, honesty, health and respect for, and compliance with, the spirit and letter of rules and laws.
Membership of the IAWA means that all athletes may be selected for testing. Your membership of the IAWA commits you to agreeing to testing.
Agreeing to participate in IAWA competitions commits you to agreeing to testing if requested.
Our members agree to abide by all rules and regulations of the IAWA. This also refers to persons under the age of 18 which must be undersigned by a parent or guardian.
All club support personnel have a responsibility to ensure that club members are aware of the Irish Anti-Doping Rules and that there is an atmosphere supporting a drug free sport within the club.
A complete copy of the Irish Anti-Doping Rules are available at this link https://www.sportireland.ie/anti-doping-rules
Once you join the IAWA and enter a competition you are accepting the fact that you could be drug tested.
This page provides information from World Anti-Doping Agency (WADA), Sport Ireland, United World Wrestling (UWW) and IAWA rules and regulations in the area of doping.
The consequences of not adhering to Anti-Doping rules can be severe for athletes and their support personnel such as coaches and parents, therefore it is critical that any questions/concerns be clarified with either the IAWA or Sport Ireland
The IAWA is fully committed to ensuring doping has no place in the sport of wrestling. The IAWA works with Sport Ireland and UWW in its anti-doping efforts.
Rules apply to wrestlers and wrestler support personnel. The Irish Anti-doping Programme seeks to preserve the spirit of sport. By virtue of their participation in IAWA activities, members, including minors, agree to abide by the Anti-Doping Rules.
The following sections highlight key areas with regard to Anti-Doping.
---
Information
For further information on Ant-Doping, please refer to Sport Ireland Athlete Zone which will cover such areas as;
What Happens in A Drug Test?
How to check your medications?
Prohibited List
Supplements & Nutrition
Results Management
Anti-Doping Rule Violations
Click HERE to be directed to Sport Irelands Athlete Zone
Therapeutic Use Exemption
Wrestlers, like all others have illnesses or conditions that require them to take particular medications. All wrestlers should check their prescribed and over the counter medications to see if they are permitted. If the medication you require falls under the World Anti- Doping Agency prohibited list, you may need to apply for a Therapeutic Use Exemption (TUE).
What do IAWA members need to know?
WADA Prohibited List–Checking Medications & TUE Policy
The World Anti-Doping Agency issues a Prohibited List annually.
For information on the Prohibited List see:
https://www.wada-ama.org/en/what-we-do/prohibited-list
https://www.sportireland.ie/anti-doping/athlete-zone/athlete-zone/therapeutic-use-exemptions
Note: Recreational Drugs are tested in-competition.
What are you taking into your body?
Always check the status of over-the-counter and prescribed medications in relation to the Prohibited List, based on where you purchase the medication:
Republic of Ireland:
Drugs in Sport Database on www.eirpharm.com
For instant access to the Drugs in Sport Database, download the free 'Medication Checker' App available for iPhone and Android for Eirpharm – find it in the Apple iTunes Store or on Google Play
Medications bought in the Republic of Ireland can be checked by your G.P., Consultant or Pharmacist in a monthly publication called MIMS Ireland. Ensure the current months edition is checked.
Northern Ireland/UK/Canada/USA:
Medications bought in Northern Ireland, U.K., U.S.A and Canada can be checked on www.globaldro.com
If a medication is prohibited, you must check and adhere to the Sport Ireland TUE Policy at https://www.sportireland.ie/anti-doping/athlete-zone/athlete-zone/therapeutic-use-exemptions
Supplements?
---
Wrestlers need to be aware that there are risks associated with the use of sports supplements with many positive drug tests associated with their use.
If a wrestler is contemplating supplementation as a nutritional strategy, we advise that you seek professional assistance from a professional sports dietician. Only batch tested supplements should be used. Batch tested products can be checked using the following link: https://sport.wetestyoutrust.com/
IAWA Wrestler Requirements:
---
Wrestlers seeking permission to use a medication containing a substance on the WADA Prohibited List.
Click HERE to be directed to the current prohibited list.
You must seek a Therapeutic Use Exemption (TUE) to do so. IAWA wrestlers are permitted to apply retroactively (get a Post-test TUE). You need to ensure that your medical practitioner has a full medical file in place (see below for further details)
Post-test TUE: If you are drug tested and the lab report shows a prohibited substance in your sample, Sport Ireland Anti-doping will contact you to offer you the opportunity to make a Post-Test TUE application for the substance, within specified timelines. You will need to supply a complete medical file documenting your medical history, diagnosis and medical justification for using a prohibited medication as opposed to a permitted alternative.
A wrestlers medical file would typically consist of:
A detailed medical history (when diagnosed, previous episodes, previous hospitalisations, related symptoms, etc.)
The results of any relevant medical tests, laboratory studies, etc.
Any other supporting information which will confirm that the player has a legitimate therapeutic requirement to use a prohibited medication to treat a medical condition
For asthma TUE applications, the medical file should also specifically include a comprehensive report of the Forced Expiratory Volume in 1 second (FEV1)
The Irish Amateur Wrestling Association Parental Consent form for Drug Testing should be completed by any underage players (under 18 years of age) wrestling in an adult division – these forms are submitted to IAWA Antidoping Officer at commencement of Season and are available by contacting iawa.antidoping@gmail.com
Declaring Medications and Supplements:
It is very important that you declare ALL MEDICATIONS AND SUPPLEMENTS taken within the last 14 days if you are drug tested. The Doping Control Officer will ask you to list all medications, supplements, etc. you have taken within the last two weeks on the Doping Control Form.
Where can I get more information?
Sport Ireland Anti-doping is the body responsible for the administration of anti-doping testing, education and administration. There is more information on their website and a copy of the Irish Anti- Doping Rules is available from HERE or you can contact them directly on 01 8608800.
It is recommended to supply all members of IAWA Clubs with an Information Wallet Cards. These are supplied at competitions, seminars and at the AGM and are also available for order direct from the Sport Ireland website
Parents' Guide to support clean sport
---
An anti-doping reference guide/booklet for parents seeking more information to ensure healthy athletic development and prevent the use of performance enhancing substances. This resource is relevant to parents of all levels of athletes from beginner to elite.
Parents play a key role in forming athletes' attitudes to doping and athletes often turn to them for advice. Topics such as healthy sport cultures, nutrition, the risks of supplements, and doping risk factors are outlined, and links to websites where parents can find further useful information are suggested.
Parents, please click on this link for more information: https://www.wada-ama.org/sites/default/files/html5/edu_parents_cleansport/en/?page=1
Anti-Doping Important Links and contacts
---
Main Page of Sport Ireland Anti-Doping - http://www.sportireland.ie/Anti-Doping/
World Anti-Doping Agency (WADA) https://www.wada-ama.org/
UWW Anti-Doping information https://unitedworldwrestling.org/governance/about-anti-doping
Contact our IAWA Anti-doping Officer: iawa.antidoping@gmail.com
Sport Ireland Anti-Doping Unit can also be contacted at:
Sport Ireland, The Courtyard, Sport Ireland Campus,
Snugborough Road, Blanchardstown, Dublin 15,
D15 PNON,
Tel +353 1 8608800
Email- contactus@sportireland.ie
If you find links that are not working on this page, please report them to iawa.antidoping@gmail.com