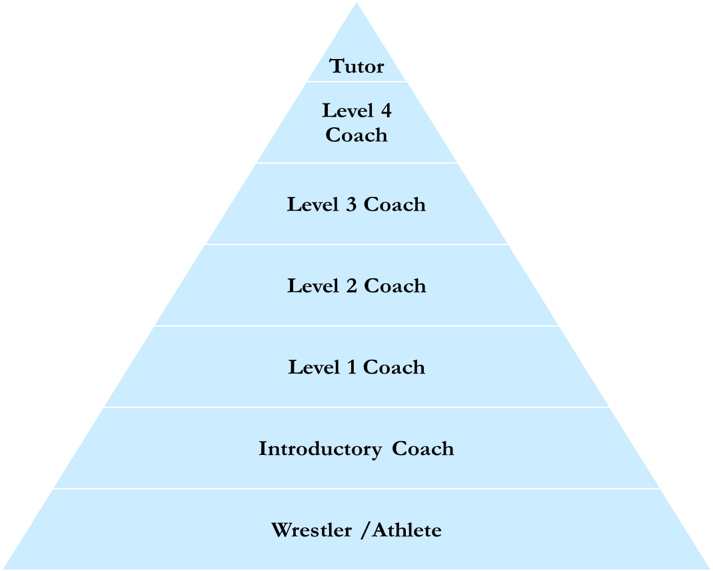 Your club will need to identify members who are willing and able to lead or coach other members in training, national and International competition. There are certain skills and safety aspects they should be aware of if they take on the role of coach or a trainer. To help with this the IAWA have developed a coaching development scheme as part keeping training safe.
---
It is recommended that there is at least two qualified IAWA level 1 coaches in the club with a current First Aid accreditation. Deciding on the type of grappling sport your club operates in you will have to decide on what type of coach is available to your club. There are various wrestling/grappling disciplines to suit the needs of any club. The training coaching & accreditation scheme is designed as an aid to your development as a wrestling coach and to help all wrestlers/ grapplers develop in a fun and safe environment.
---
I.A.W.A. Coaching License
Coaching Wrestling is a very fulfilling but specialist role. A coach will support a sportsperson in achieving a specific personal or professional goal by providing training, advice and guidance.
There are a number of prerequisites for those wanting to become a coach; these include:
Trustworthy – a coach must be honest and impartial.
Responsible – a coach must have integrity and take his/her role seriously.
Prepared for their role - prepared physically and mentally for the role.
Competent – a coach must have skills and experience in their chosen field to enable them to develop others. A coach should be committed to their own continuous professional development.
The IAWA Coaching License for Wrestling and Grappling is the only license in Ireland accredited by:
The Irish Amateur Wrestling Association (IAWA)
Coaching Ireland (CI)
Sport Ireland (SI)
The coaching license is also recognized by:
The Olympic Council of Ireland (OCI)
United World Wrestling (UWW)
Insurance Companies
---
I.A.W.A. Introductory Coaching Course
Duration – 8 hours
The Introductory coaching course is available to any IAWA member over the age of 18 who is involved in the coaching of, or participation in Wrestling, Grappling, Pankration, MMA or any Combative Sports
Candidates are required to attend an 8 hour course delivered over one day
The course content includes:
History of Wrestling
Basic Coaching Guidelines
Basic Health & Safety
Basic Awareness Course on the Code of Ethics for Coaching Children and Vulnerable Adults in Sport
Garda Vetting information and vetting forms, which is now compulsory for all Coaches in coaching with under 18's and vulnerable adults
---
Level 1 Coaching Certificate. (Coaching License)
Coaching License Level 1 – Assistant Coach
Duration – 32 hour course + 15 logged hours
The Level 1 License course is available to any IAWA member over the age of 18 who is involved in Coaching Wrestling, Grappling, Pankration, MMA or any Combative Sports.
Candidates are required to attend a 4-day course carried out over two weekends.
Candidates must complete all four days of the course to be awarded the license.
On completion of the L1 course, Candidates must log 18 hours of coaching session plans, at least 28 hours of coaching experience under the supervision of at least two current registered Level 2 Coaches or higher and at
The L1 license course covers many aspects for Coaching Wrestling and Grappling Sports.
Topics covered, but not limited to, are
Sports Psychology
Anti-Doping Procedures.
Coaching Techniques – Wrestling Stance, Front Head & Arm Control, Half Nelson, Single and Double Leg Take Down, Fireman Carry, Roll Hip Technique, Cross Face.
Applying the fundamentals of coaching skills in your training sessions
Session planning and logging Coaching hours
Basic First Aid
Health and Safety
Written Assessment
The L1 coaching qualification will give you the building blocks and skills to deliver safe, quality coaching and the confidence to deliver exciting, safe training sessions to your Club members.
The Introductory Course and Level 1 License can be run over the same weekends, in conjunction with each other
Places are typically limited to a total of 18 on each course
Your place will only be confirmed on the receipt of payment in full
Participants will be not be accepted without registering and full payment
Coaching Licenses are not awarded until participants have cleared IAWA Garda Vetting
---
Level 2 Coaching Certificate. (Coaching License)
Coaching License Level 2 - Coach
Duration 32 hour course + 28 logged hours
The level 2 Coaching License is a higher level of technical skill than is expected at level 1.
The focus of this L2 course is on coaching wrestling skills and technique
There are a number of Pre-requisites for acceptance onto this course:
You must have held a level 1 license for a minimum of two years
Candidates must hold a current valid and recognized First Aid Certificate
The Level 2 course is a 4-day course carried out over two weekends.
On completion of the course, candidates must log session plans for 25 hours of Coaching under various L2 registered wrestling coaches. The logged hours must be completed within a two-year period from the last date of the course
The L2 license course covers;
Power & Strength Programmes for Wrestling
Endurance Programmes
Nutrition
Tournament Organ
Techniques – Head & Arm Throwing Technique, Shoulder Throw, Arm Throw Variations, High Crotch, Ankle Pick, Leg Sweep, Arm Drag, Gut Wrench, Ankle
Strategy & Tactics
Long Term Training Programmes


Courses are typically limited to a total number of 18
Your place will only be confirmed upon
Participants will not be accepted without registering and payment in advance
Licenses will only be issued after:
Proof of 25 coaching hours logged
Session plans have been assessed and passed
Successful completion of a technical assessment on all coaching techniques listed within Level 1 and Level 2 qualifications